Sometimes I think we all forget just how fragile life is. Of course I've been dealing with lymphoma for something like 21 months now so it isn't like I haven't thought about death a time or two. And sadly during that time I've lost more than one friend to the Rainbow Bridge. Still, every time a life is lost, I am still taken by surprise.
Last night my friend Oreo died. She wasn't on Dogster but you may have read about her in my diary from time to time. She only lived a block away and she would sometimes come to stay with me when her pack was out of town. Her pack loved her very much and she was fortunate to have a wonderful home for her eight years. I don't know why she died as she was seemingly very healthy. She had been out for a walk before bedtime yesterday when she suddenly lost the use of her back legs. A short time later she had difficulty breathing and she passed away before they could even get her to the emergency vet. She was a very good dog and I will miss her.
I don't know if it is easier when you know death is coming or if it takes you completely by surprise. I think maybe that it is always hard for the loved ones left behind.
On Sunday I went back for my latest injection of l-asparaginase. I had a pretty rough night of it but by lunch time Monday I was starting to feel better and by dinner time I was back to my old self. I'm happy to say that the injections continue to work for me and the the bumps have gone down again to a more manageable size. The bosses continue to do an excellent job spoiling me and I'm happy to say that yesterday was steak day. Mmm, steak.
Finally, I wanted to thank my friend Harry for making me the fun new pictures. As you all know, I love food so they are perfect. Thank you very much.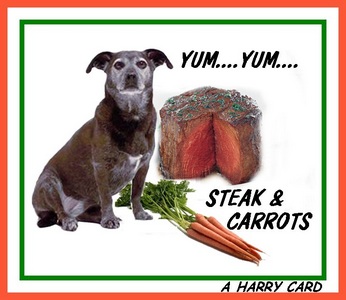 Peace, out.
Little Bit