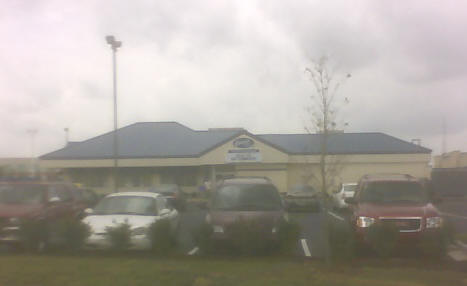 The sign says 2 days to Butterburgers.
So here is a pop quiz for you all.
1) Where will the pack be dining on Monday?
a) Home
b) Dairy Queen
c) CULVERS
2) We won't be eating any frozen custard.
a) True
b) False
Okay, I'll admit that I'm a little over excited about a burger place. After all, all hamburgers are good. Still, mmm Butterburgers. Mmm, frozen custard. I can't wait to find out what the flavor of the day is. I sure hope they pick a good one.
Speaking of creamy goodness, the bosses left Lyle and I yesterday evening and I was sure that my chances for DQ were low. I am happy to report that while I didn't get to experience the joy of the drive through window, the bosses were thoughtful enough not only to get some carryout, but they even brought a cooler with ice packs so that our ice cream wasn't too melty. Mmm, ice cream.
Oh and don't forget. Tonight is the United Bowl II. Cheer on the Lexington Horsemen to their second national championship! Go Horsemen!
Have a great weekend!
TTFN,
Little Bit