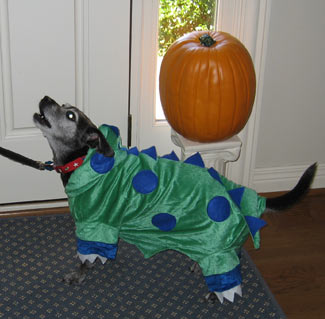 BOO!
I'll be the first to admit it wasn't my idea. I was watching The Angry Beavers episode The Day the Earth Got Really Screwed Up. In the episode, Daggett convinces his brother that if they go trick or treating the day before Halloween, then they would get more candy because none of the homes would have handed any out yet. Seems like a reasonable assumption to me so I convince my pack to let me put on my DOGZILLA costume for my walk yesterday. It was a bit on the warm side so I was a little hot but I was more than willing to put up with the heat if it allowed me to score some tasty-tasty candy.
So anyway, it seems like things are starting off a little slow. I actually saw someone point at us and laugh! Still, no candy.
Then we get to Oreo's house and they must have been waiting for us because immediately her boss ma'am comes running out to say hello. Well, this is more like it, I thought.
But then I realize my the flaw in my plan - I'm TOO CUTE! It seems that she didn't want to run the risk of my passing by her house so she runs out to pet me without the candy (or biscuits-I'm not fussy) that I so richly deserve!
Well, I did get lots of attention. And I do love attention. And the weather was nice.
Well, I guess the other benefit of going trick or treating a day early (even if I didn't get any treats) is that I still have today left to work my charms.
Okay, changing subjects here.
My Packers have lost another game. I'm sad that they are off to the worst start of my entire life. On the upside, if they decide not to press charges, they might have a new running back that they can try out. From what I understand he did a good job evading tackles from the security guards which is a good start anyway. Oh and of course the other upside is that I had some RAWHIDE. Yeah baby!
That about wraps it up for today. Good luck with your own trick or treating. I hope you score lots (and lots) of good treats. Oh, and that you share them with me!
Happy Halloween.